In its final season, The Unbreakable Kimmy Schmidt proves to be unbreakable by showcasing the strength and empowerment of its (mostly female) characters, while remaining relevant and unwavering in its comedic convictions.
The first half of season four, which debuted yesterday, tackles controversial topics such as toxic masculinity, the #MeToo movement, and unmet adult expectations – all the while staying topical and meta-driven in comedy. It's an incredibly ambitious six episodes. Seeing plenty of growth for each beloved character, all the while making a statement and poking fun at itself. Overall, I found the episodes emotionally well-rounded, leaving quite the promise for a happy ending.
This season begins with the 'Little Girl, Big City!' premise, a sort of 90's parody of the shows' reinvention of itself, or Kimmy's lack-of ability to. For years we've seen Kimmy try to break away from the trauma of her Mole woman roots in noble yet hilarious fashion. This season sees Kimmy as a semi-well-adjusted adult. Perhaps, not getting everything right, but is at least is operating aware of her past while pushing towards her future.
It's a refreshing variation to showcase Kimmy's change, especially given how much in the world is different now (at least since last season). Though it doesn't take long to delve back into the show's enjoyable mayhem. With Kimmy's well-intentions and bright optimism often at foil with the bleakness of modern situations; particularly, addressing gender and power discrepancies in the workplace environment, in reference to the #MeToo movement.
Kimmy's new job also awkwardly explores arrested development and social immaturity, particularly through the lens of those in tech-startups and the different 'nerds' of the company.
In fact, this season seems targeted towards the youth of the generation, with two particularly powerful monologues occurring in the later half. One addresses cliques and acceptance of one's identity, the other, discusses a need for change in defining boyhood masculinity. They're both powerful messages, especially in a comedy unafraid to get topical. The show really brings to point belittled voices and the disempowered, whom Kimmy, very much aspires to play champion towards this season.
In the meantime, UBK's more self-centered cohorts see their own unique arcs as well. With Titus on a quest for acting success to win over the heart of his beloved Mikey, Jenna in a surprisingly supportive role as Titus' agent/manager, and the misadventures of Lillian being… well, more-or-less her loud, proud, and degenerate self; apologizing to nobody, while imparting the occasional wisdom on occasion.
As mentioned, each character seems very self-actualized this season – to great success. Becoming not necessarily the person they originally aspired to be, but at least something close to change; or at least, better grounded as individuals. I'd say Titus' story stands out the most. As he yet again, overcomes some of the darker, more closeted aspects of his past, in aspiration of being the gay man he needs to be for his true love. Though, also, for the attention. This is Titus after all.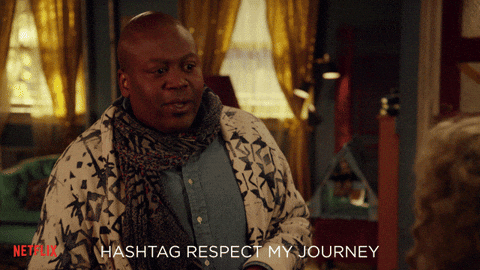 It's a shame how the show is ending because this is definitely one of their more ambitious seasons. With much praise given to its usual shotgun style of comedy (basically joke upon joke that's layered in set, in dialogue, and in story: AKA everywhere), conversations on entitled male privilege and sexual harassment, and even an open discussion on abortion. Basically, there's a lot to praise about this season. And it's not only hilarious but also only halfway done.
The series also tries something different in episode 3's unique episode 'Party Monster: scratching the surface'. It's a brilliantly timed sort of meta-parody, poking fun of Netflix itself, while presenting us a unique backstory of the reverend's time as DJ Slizzard, in a true crime documentary that's one of the funniest parodies since "Daddy's Boy" or Titus' "Lemonade".
Unbreakable Kimmy Schmidt has come far from being a lighthearted show about an abused survivor looking to move forward. It's come to represent a lot of modern feminist issues. With season 4 staying incredibly topical, as characters reflect back on their roots and move forward with their lives – all while the show makes some bold statements about gender inequality. Poking fun of, and holding men of power, accountable. Something America itself really needs right now.
The first six episodes of Season 4 of The Unbreakable Kimmy Schmidt is available on Netflix. The second half of the season will air at a future date.