The Dawn of DC has arrived, and with it a brighter future, but darkness is coming for this dawn.
May brings with it a free treat: The Dawn of DC Primer, designed to prepare readers for DC's latest yearlong storylines. But it's not the only month with something special to offer, June sees two DC megastars hit the milestone of 800 single issues. Congratulations to The Flash and Wonder Woman who will each get an oversized special issue in celebration of their astounding accomplishment; these comics will debut the new creative forces behind each ongoing series. The Flash has Simon Spurrier and Mike Deodato Jr., while award-winning Tom King and artist Daniel Sampere helm Wonder Woman. In other news, actor Michael Dorn (the voice of Steel on Superman: The Animated Series) has been tapped by DC to write Steelworks, along with art by Sami Basri. And the writer of Galaxy: The Prettiest Star, Jadzia Axelrod, makes her big DC debut with Hawkgirl, drawn by Amancay Nahuelpan.
Amanda Waller has seen the writing on the wall, she knows the heroes of the DC Universe are a deadly threat that could one day destroy the world. Dark Crisis on Infinite Earths only proved her fears justified, and since then Waller has been secretly amassing a stockpile of weapons and cultivating a cadre of allies who feel the same. Now some of the worst villains in the DC Universe are about to get an offer they can't refuse. The Dawn of DC Primer promises to uncover Dawn of DC's mysteries, stakes, and interconnecting tales this year, from the mind of Joshua Williamson with artwork by Leandro Fernández. This unique issue will be free at comic shops come May 16th.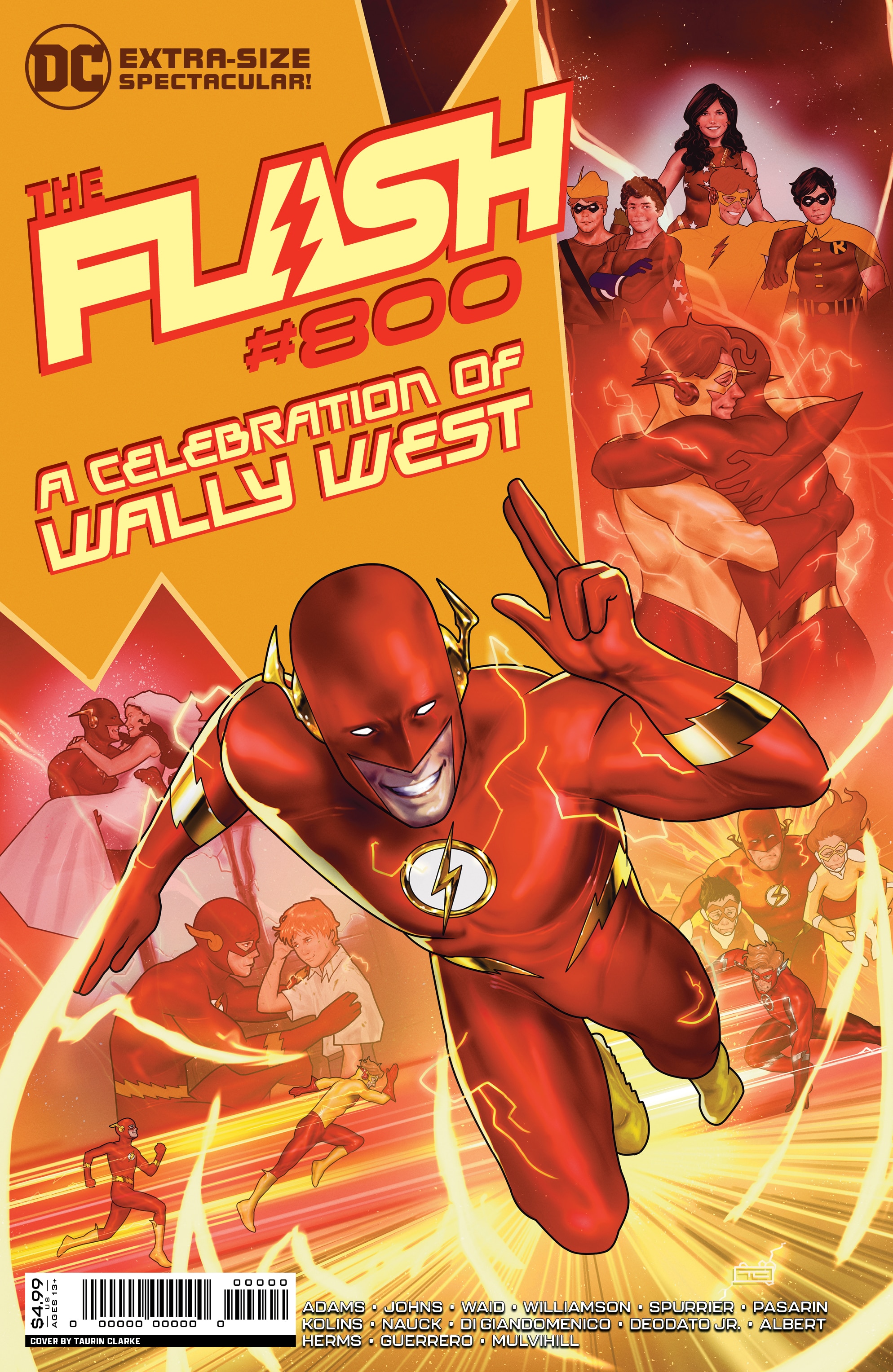 The Flash #800 Main Cover By Taurin Clarke
The Flash is about to hit its whopping 800th issue on June 6th, and DC is bringing out the big guns to send the speedster off right. A bevy of legendary Flash writers including Mark Waid (Batman/Superman: World's Finest), Geoff Johns (Justice Society of America), Joshua Williamson (Superman), and Jeremy Adams (The Flash), each get a story in this massive issue. Along with a collection of classic writers comes a talented pool of artists as well from current series artist Fernando Pasarin with Oclair Albert (Hawkman), Todd Nauck (Stargirl: The Lost Children), Carmine Di Giandomenico (Batman: The Knight), to returning The Flash artist Scott Kolins (Suicide Squad: King Shark), and Mike Deodato Jr. (Avengers).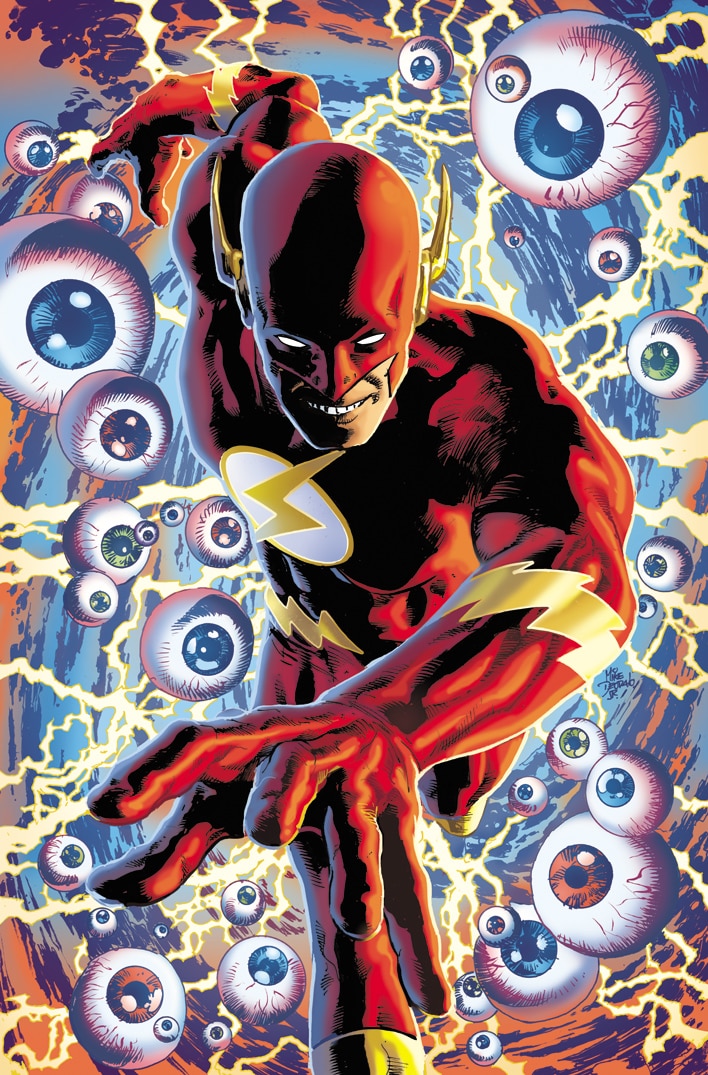 The Flash #1 Promo Art by Mike Deodato, Jr.
The Flash gears up for Dawn of DC in September! Starting with The Flash #1, Simon Spurrier (Coda, Detective Comics) and Mike Deodato Jr. comprise the new creative team that will bring us the latest adventures of the Scarlet Speedster.
Wally West is on top of the world. He's the fastest he's ever been, the most fulfilled, the most heroic; he even has his family surrounding him. But, something's not right. Something is, in fact, very, very wrong. Since he's grown into his powers the knowledge has opened Wally's eyes to what could be, and allowed him to sense when strange things are afoot. Beyond the Speed Force, a dark whisper is calling, and Wally's need to test the limits of his powers will introduce him to new realms, unknown friends, and mind-blowing dangers. It all starts with the prelude provided by the monumental The Flash #800, then the Fastest Man Alive is on his way to a thrilling cosmic hellride.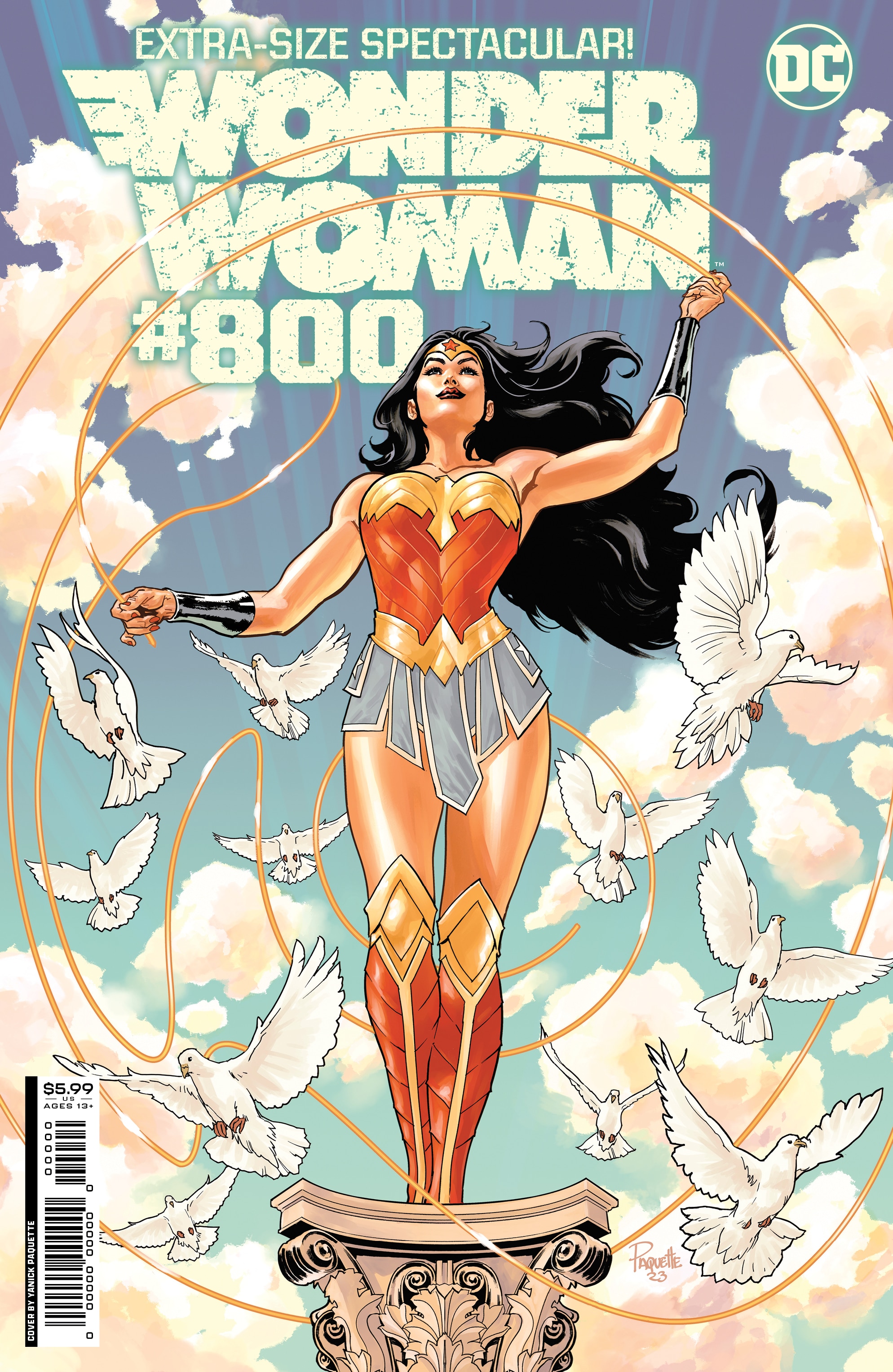 Wonder Woman #800 Main Cover by Yanick Paquette
June 20th marks the 800th issue of Wonder Woman, not to mention "Whatever Happened to the Warrior of Truth?", by Becky Cloonan (Trial of the Amazons) and Michael W. Conrad (Batgirls), is reaching its epic conclusion! Trapped in the dreams of those around her, Diana's grip on reality is fading fast. She needs to find a way out before it costs her everything. Can Diana still be Wonder Woman at the end of everything? Wonder Woman #800 is written by Becky Cloonan, Michael W. Conrad, and Tom King (Supergirl: Woman of Tomorrow) with art by Joëlle Jones (Catwoman), Jen Bartel (Wonder Woman), Daniel Sampere (Dark Crisis on Infinite Earths), and others.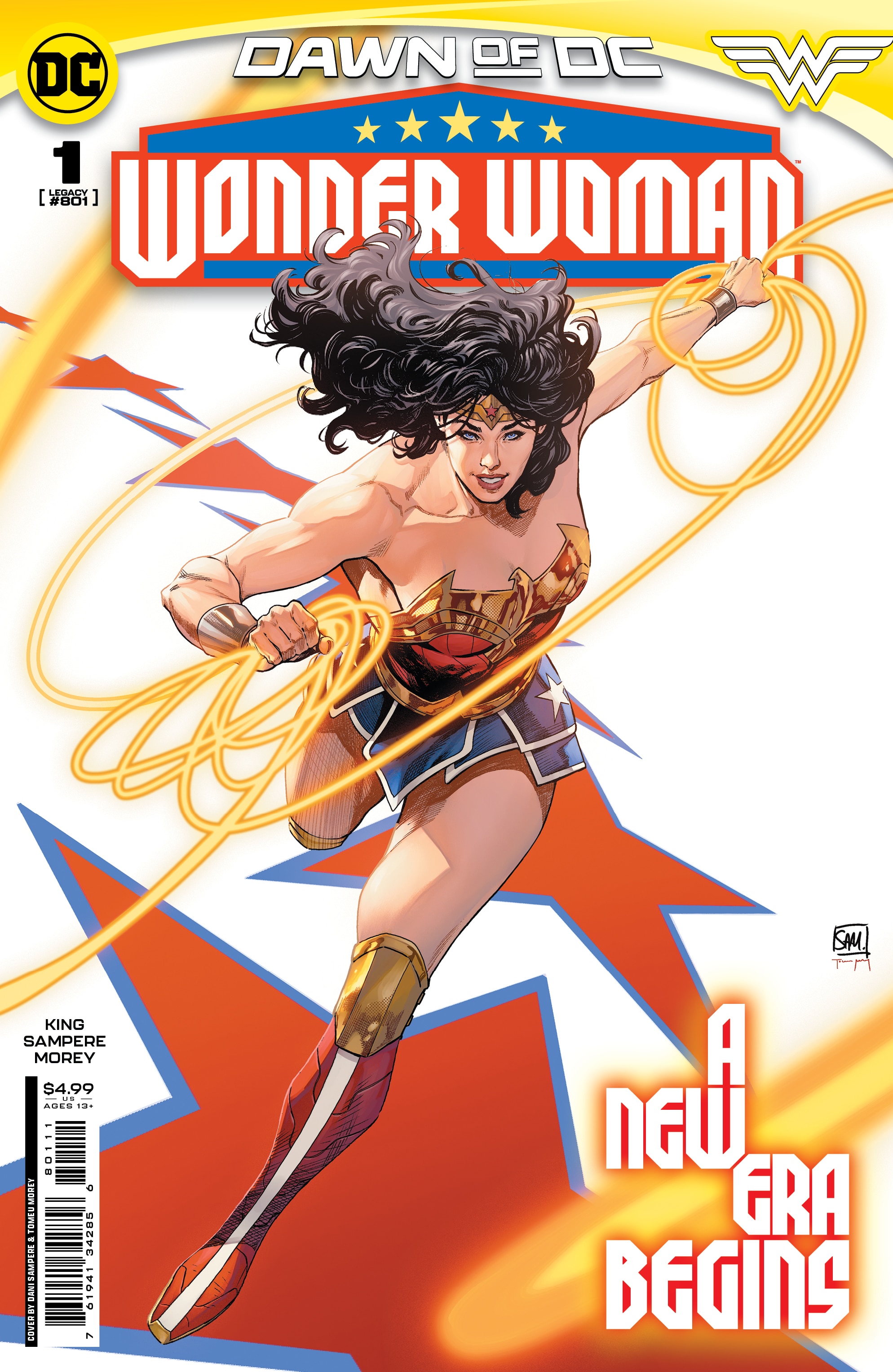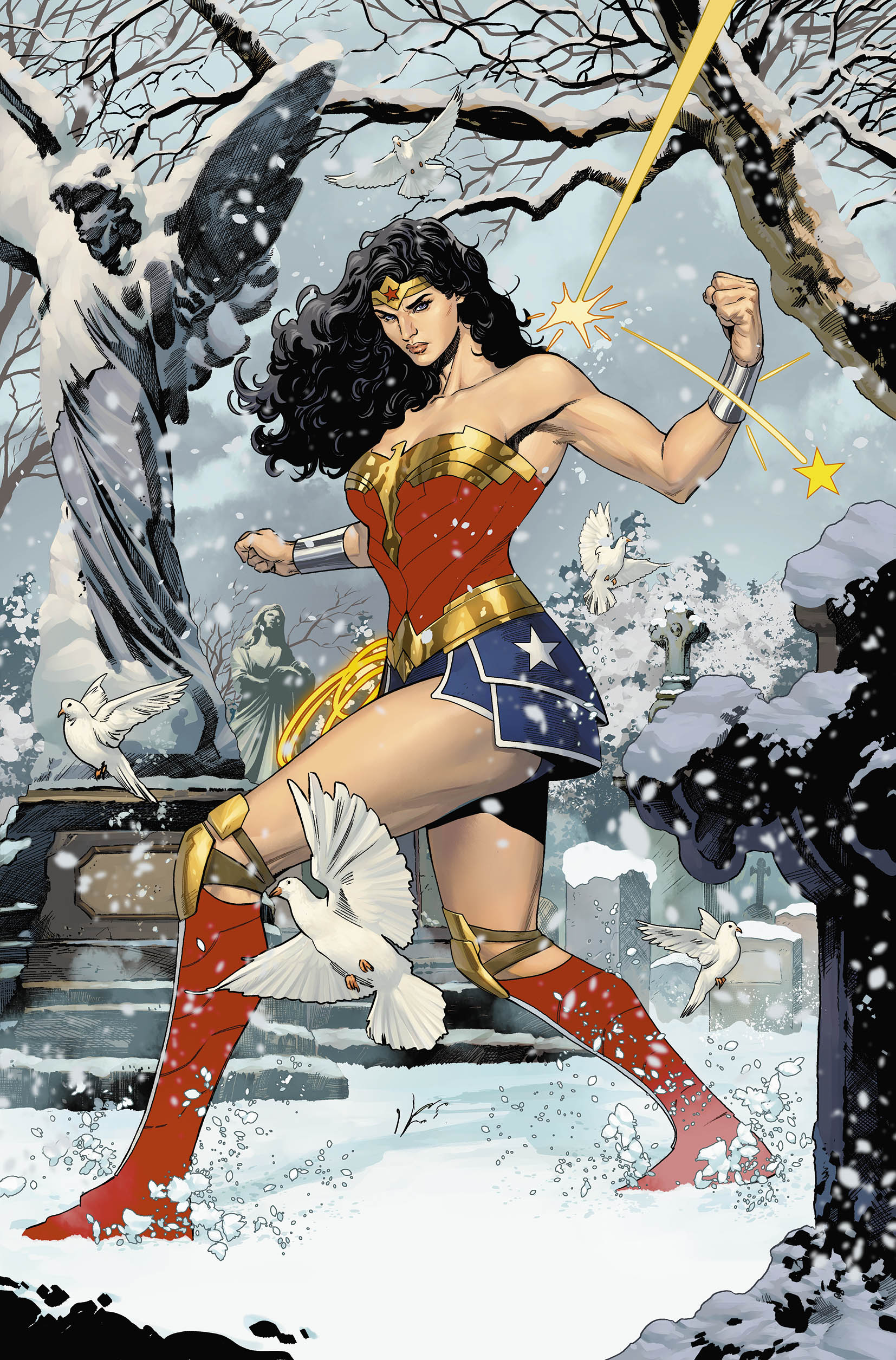 Wonder Woman #1 Main Cover and Interior Artwork by Daniel Sampere
Acclaimed writer Tom King and artist Daniel Sampere kick off Wonder Woman #1 in September. There's been a mass murder on American soil and an unknown Amazonian is the prime suspect; in a reactionary move U.S. Congress passes The Amazon Safety Act, which bars all Amazons from the U.S.A. To enforce the new law, the Amazon Extradition Entity (AXE) task force is established and sent out to expel any Amazons in violation by any means necessary. As Wonder Woman investigates what really happened, she's made a fugitive in the land she promised to protect. The action-packed Wonder Woman #1 will be available at local comic shops in July, and Wonder Woman #800 features a prelude to the story.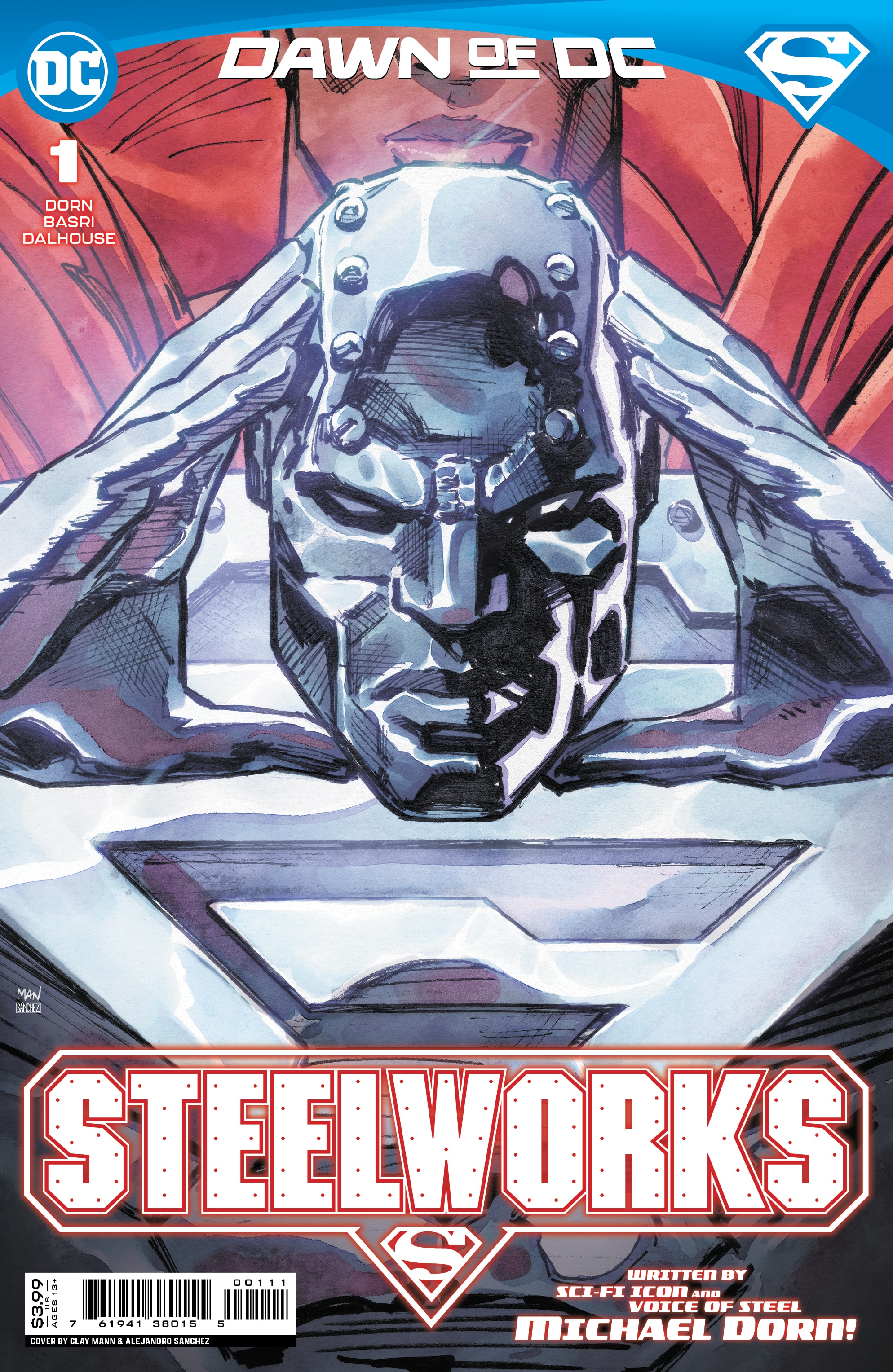 Steelworks #1 Main Cover by Clay Mann
Known best as the voice of Steel in the Superman: The Animated Series cartoon, legendary actor Michael Dorn is writing the one-of-a-kind Steelworks with the help of artist Sami Basri (Harley Quinn). John Henry Irons—a.k.a.—Steel, with his company Steelworks, has brought the Metropolis of the future into the here and now, but when a terrorist is out for revenge can the super city survive? Especially if that person knows things that could cost John the legacy that is his life's work?
John's life is going pretty well. Not only is he killing it in his professional life, but on the personal front his relationship with Lana Lang may finally be putting down roots. But, being with Lana means giving up Steel. Who is John without his superhero alter-ego? Then there's Natasha, John's niece (the other Steel), how will she take the news? Although, it'll all be irrelevant if Steelworks is destroyed while John is powerless to stop it.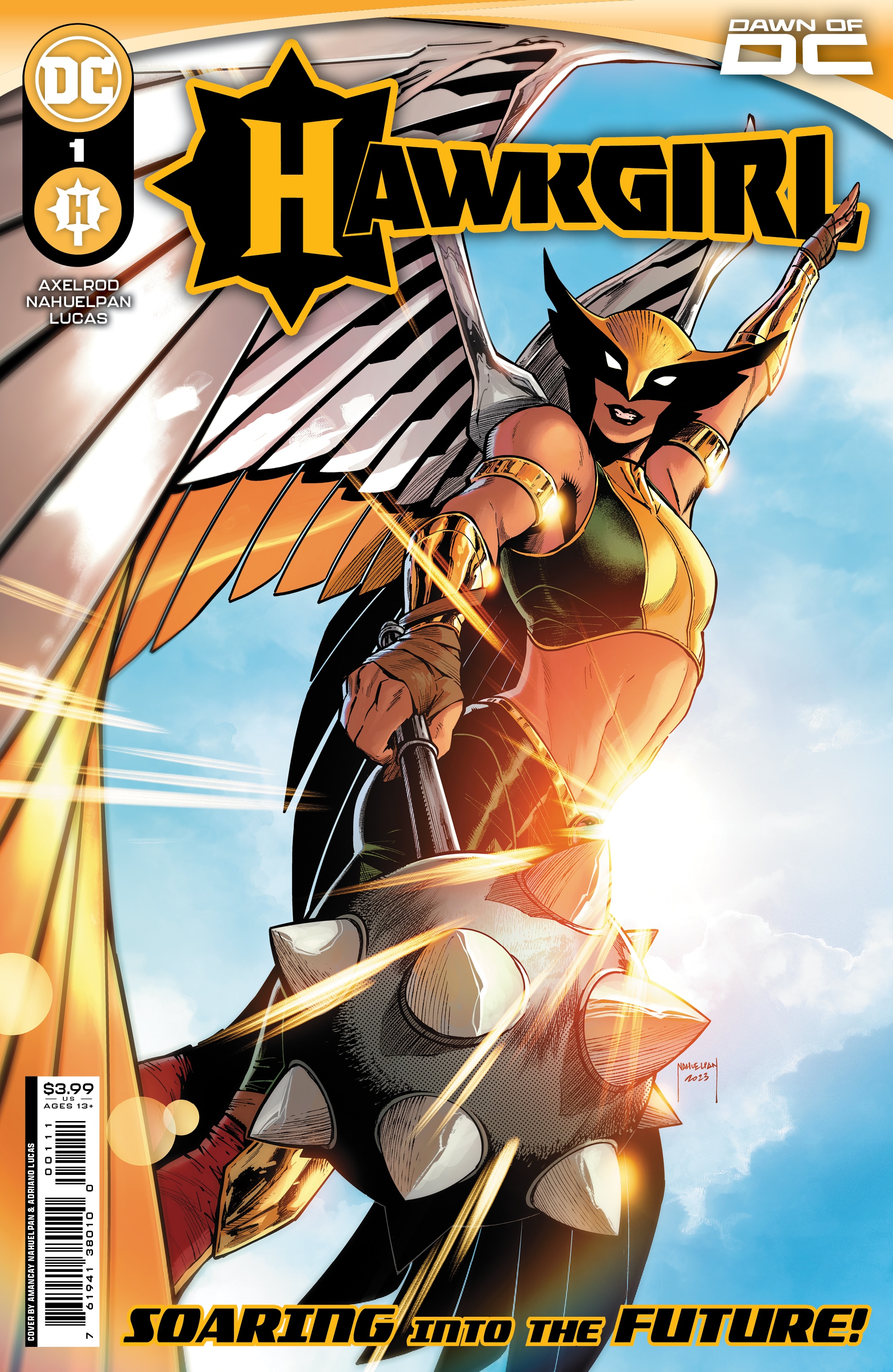 Hawkgirl #1 Main Cover by Amancay Nahuelpan & Adriano Lucas
Hawkgirl, from the minds of Jadzia Axelrod (Galaxy: The Prettiest Star) and Amancay Nahuelpan (Wonder Woman), is a high-flying, action-packed, all-new adventure.
The DC Universe's long reigning winged warrior, Hawkgirl, a.ka. Kendra Saunders, has lent her fantastic might to both the Justice League and the Justice Society. However, once the Justice League disbands, Kendra needs to find a new place to fly, thus begins her life in Metropolis. But, when an enigmatic villain with ties to the Nth Metal of Hawkgirl's wings and weapons comes to the city, Kendra's new life is at risk. Hawkgirl will also come with a series of variant covers that track Kendra's history throughout the DC. Hawkgirl #1 will be available on July 18 at local comic shops.
DC has more Dawn of DC news to share in the weeks ahead. Stay tuned!